Gymnasium
In keeping with the institution's interest in the health and physical fitness of our students and teachers, the college owns a multi-gym with all essential equipments. The gym is set up with most modern equipments like Fitness Bench Press, Fitness leg Curl Extension and Biceps Curl intimation etc to develop all the muscles of the human body.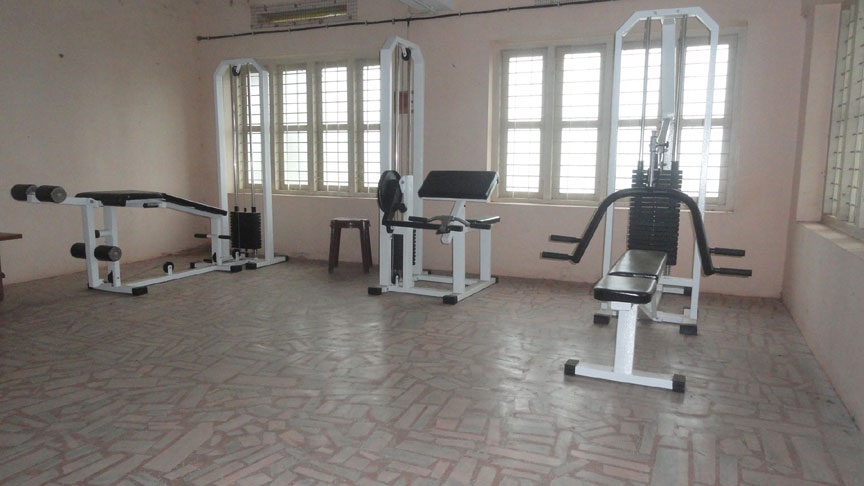 Yoga
"Yoga is an ancient art based on a harmonizing system of development for the body mind and spirit". The word yoga is derived from the Sanskrit root ' Yuj' meaning to unite and deeply indicating the union of Jeevatma (individual soul) and Paramatma (Universal Soul) . The Yoga- Sutra written by sage 'Pathanjali' is one of the most important texts in the age old yoga. Yoga is not confined to the practice of Assnas. Yama, Niyama, Asana, Pranayama, Prathyahara, Dharana, Dhyana, samadhy are the eight intergral parts of Yoga.
We have started a training programme in Yoga in the year 2013 under the leadership of Dr. Benny K.M (Physical Education Director, he took his doctoral degree with specialization in Yoga). Other faculty members include Dr. Suramya Mathai (Lecturer in Education, she completed her research work in the topic "Effectiveness of Yoga as an instructional strategy in peace education for secondary school students") and Mr. Joshy Ryan (Librarian, he trained under the Veteran Yoga Guru Sunny Chennattu, resource person M.G. University. In the year 2009 he successfully completed the post graduate diploma programme from Centre of Yoga Studies Annamalai University Tamilnadu.